Order of raised hands
Ensure that all voices are heard and people feel seen just as in person by seeing the order of raised hands in a meeting. Simply click on the Participants panel to see who raised their hand and in what order. Now you know the order of who to call on first to speak so that no participant is missed.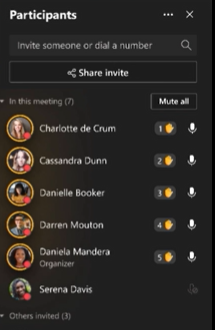 Microsoft Loop components in Teams chat
Loop components allows you to create live, collaborative components that can be edited in the flow of your work, whether in chat, meetings, email or documents. The first part of this vision is rolling out now to Teams chat, enabling you to edit messages inline and avoid a long back-and-forth chat thread. Users also can send a message with a Loop component, like a table, action items, or a list and have it co-authored and edited by everyone inline.